---
Interesting article shared by a friend:
http://news.cnet.com/8301-30685_3-20025567-264.html
---
A few nights ago we got back to our house after nightfall. On the way into our house, my wife noticed a leaf that was hanging "funny" off of one of our trees. It turned out to be a really interesting moth. Of course I wanted to get a picture of it.
I brought out my Nikon D-700 with my 70-300 lens mounted. This lens offers VR capabilities, but that still didn't change the fact that I needed a light source. I was going to use flash for the photograph, but I could not see the moth to focus! I thought my camera had a focus-assist light, but at the time it was not coming on and I did not have time to figure out what was wrong, or even if my memory was incorrect. As a quick solution, I simply asked my wife to hold a flashlight on the moth so I could focus, and then the flash would illuminate the moth for the photograph.
I was quite pleased with the results. I ended up using manual focus. The combination of camera flash and flashlight illumination came out better than I expected. Here's a picture cropped to show the moth hanging from the tree branch.
Here is a version that I have cropped all the way into the moth detail. The amount of texture and color is amazing. The focus point was on the head of the moth, so the eye shows up quite clearly. The antenna are great too, but what really amused me was how clearly the moth's "toes" show up.
One of the tips to share here is I had two different angles to consider shooting from. One angle put the moth in front of a bunch of lights from the skyline. The other angle had me shooting towards my neighbor's back yard, which had no lights. That was obviously the better choice because I don't have any light pollution showing up behind the image. So in this case, I guess I was shooting a "moment of darkness" instead of light.
---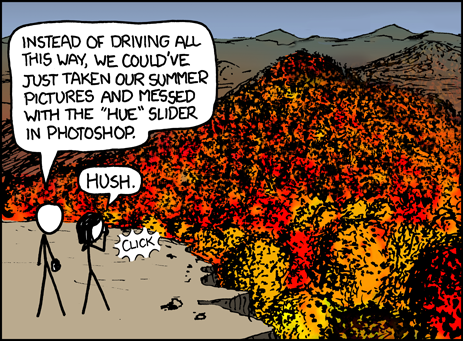 That is all.
---
Thanks to a tweet from Neothermic I found out the soft case for my Nikon 200-400 lens was subject to failure.
I sent the lens case in last Saturday via the provided FedEx return shipping label. I have the lens sitting on my desk at the moment, waiting for the replacement to arrive. I hope it doesn't take too long, the lens doesn't travel well without the case.
I'm planning a trip to Alaska at the moment. It's not a true photography trip (more of a family vacation) so I'm not sure if I will be able to justify taking it or not. I may end up with the 70-200VR 2.8 and a converter or something instead.
I will post back when I get the replacement case in, and let everyone know how long it takes.
---
I took my first all-digital photo vacation a few weeks ago. It wasn't intended to be that way. When I started packing I could not find any film in the freezer. I have a number of pre-paid Fuji envelopes, so I should have film. But it was nowhere to be found.
So I spent the week in Utah taking only digital pictures with the D700.
It felt weird.
---
I hope to get down to southern Texas this year in order to do some wildflower photography. While trying to find some resources on the web to help I found the TX-DOT page related to wildflowers as well as Fall foliage.
I'm posting it here for myself as much as anyone else. Enjoy.
Texas Department of Transportation Flower and Foliage Resource
---
I got some new toys tools near the end of last year, including a new Nikon D700 digital body. As luck would have it, life has been really really busy over the past few months (as evidenced by lack of activity on this blog) so I have not had time to shoot very much with it yet.
I hope to rectify this shortly.
---
Plastics. It's not just a quote from "The Graduate" it's become a way of life in the United States. And apparently, it has become a new floating island in the Pacific Ocean as well.
---
My favorite online e-tailer for photography related equipment is offering rebates on Sandisk memory cards through October 11th, 2008. For example you can get a $75 rebate on an Extreme IV 8GB card. The rebate strategy is interesting… you don't get cash back, you get a prepaid VISA card instead. This is the second time I have seen this. I got a prepaid VISA card instead of a check for the rebate on my new cellphone too.
---
I have a Gitzo "Mountaineer" tripod that I purchased several years ago. It's a great tripod, but it's a pain to use. As a result, I will often end up lugging around the heavier but more user-friendly Bogen unless I need to use the Wimberly head. Gitzo has fixed all of that, and I'm really pleased.
I just received my latest order from B&H and it included a monopod… specifically the Gitzo GM3551 Carbon Fiber. It uses the new 6x technology to make it lighter and stronger, but what's really special is the new "twist lock" feature. No more Gitzo twist! Now you can twist to lock or unlock with one hand. I opened and closed it twice and was already making plans to replace my older Gitzo tripod with the newer 6x "twist lock" model. I think it would become my only tripod at that point.
I got the monopod to use with my Nikon 200-400 f4 VR lens. With VR you would think I would not need a tripod or monopod, and truthfully I don't. I have managed to get some very good pictures without a support. Then why the monopod? Then lens is simply heavy.
The monopod is more for supporting the weight while I'm using the lens rather than for providing stability. I have a soccer game this weekend and might try it out.
I also picked up a new VR lens, the Nikon 70-300 VR. This is not a fast lens or a fix aperture. But I have always liked the reach of the 70-300 lenses, and with VR it's certainly going to be fast enough. I am going to take this to the soccer game this weekend too. If it works, it's certainly going to be a lot easier to cart around, even if it is a bit slower I'm betting it will be more than adequate for soccer pics.
Stay tuned for more details as I get to start using my new toys.